Welcome to the

Bangor Historical Society!
We are dedicated to preserving our past.
---
General Membership Meetings:
Second Thursday in Feb., Apr., Jun., Aug., Oct.
Meetings are free and open to the public.
---
Bangor Historical Society
P.O. Box 25
Bangor, Michigan 49013
---
All information pertaining to this site;
Photos, Family History, General Info. Etc.;
Contact: Bob Emmert
Email; bob@bangormihistory.com
---
Phone Museum Office; (269) 427-0611
Museum Office is closed during the winter months.
Please leave a message on answering machine.
Museum & Office open Sprinig, Summer, and Fall
Museum Hours; 9am - 3pm, Friday & Saturday
Email Office; bangorhistoricalsociety@gmail.com


Events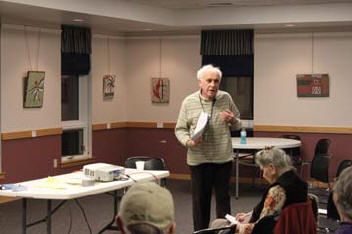 Dr. John Geisler, a retired WMU professor, was our guest speaker at the last General Meeting. He walked us down the native American trails in Michigan which eventually became highways. He spoke mainly about the Sauk Trail (US 12) which he traveled over several times. He gave a slide presentation showing the highlights and history of the well traveled road.